Since Sat ( which was barely 4 days ago) I went with dear to With A Pinch oF Salt cafe..and today I went there again.. haha, motive to try the $5 afternoon buffet since my brother and his gf were free... so i took them there...
there were 15 items on the menu: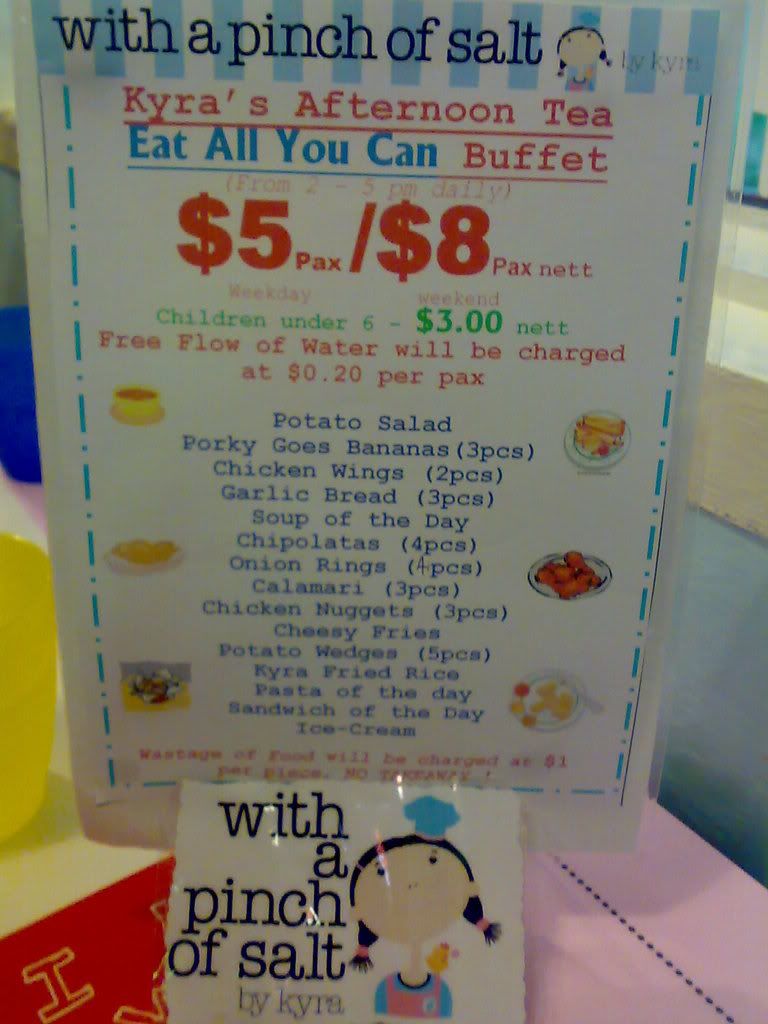 and we ordered all 15 of them.. but the potato salad and the cheese of the cheesy fries were sold out but we still ate 15 items.. the boss kindly asked if we want garden salad to replace potato salad and cheesy fries were changed to fries ( without the cheese lah!)
We also ordered a jug of 7-up for $5.20. ( i think they also served free flow plain water at $0.20 each) ..
Ok, the soup of the day was cabbage soup, not bad.. i find their soup quite nice..( i tried 3 different soups so far as this was my 3rd time there)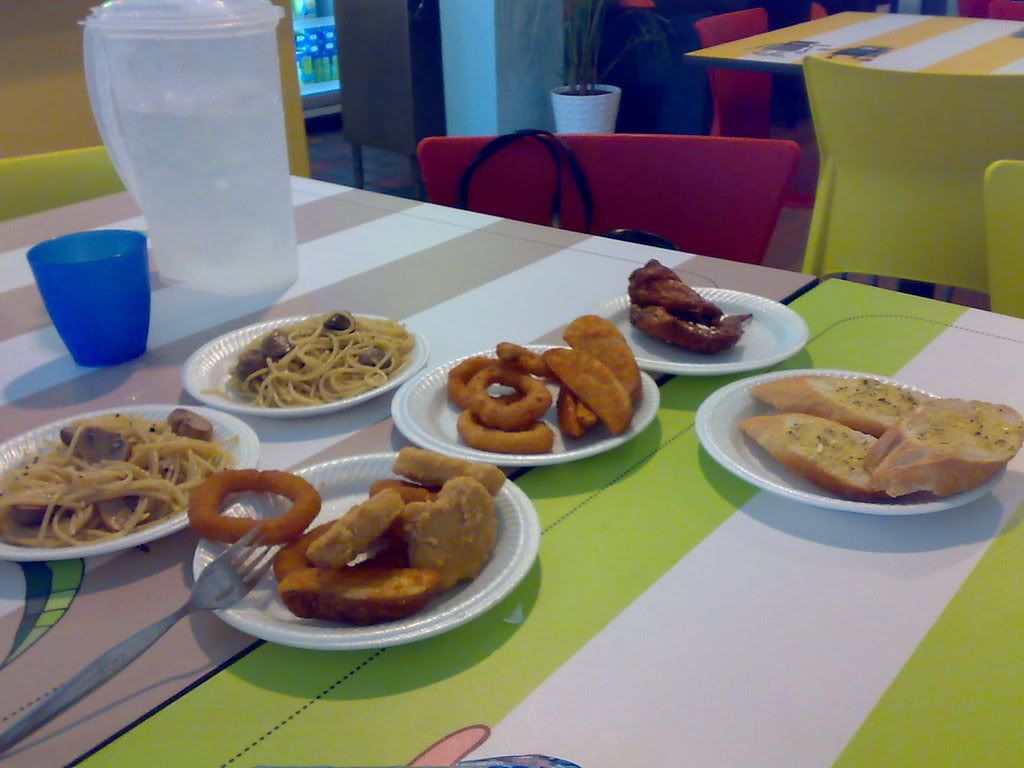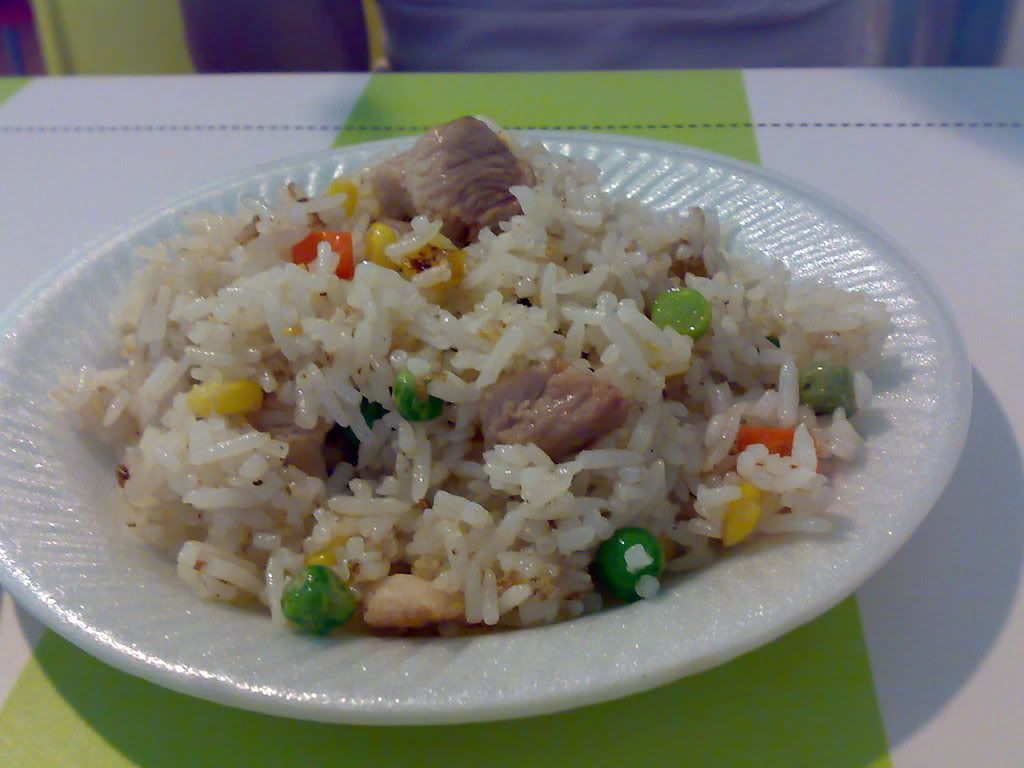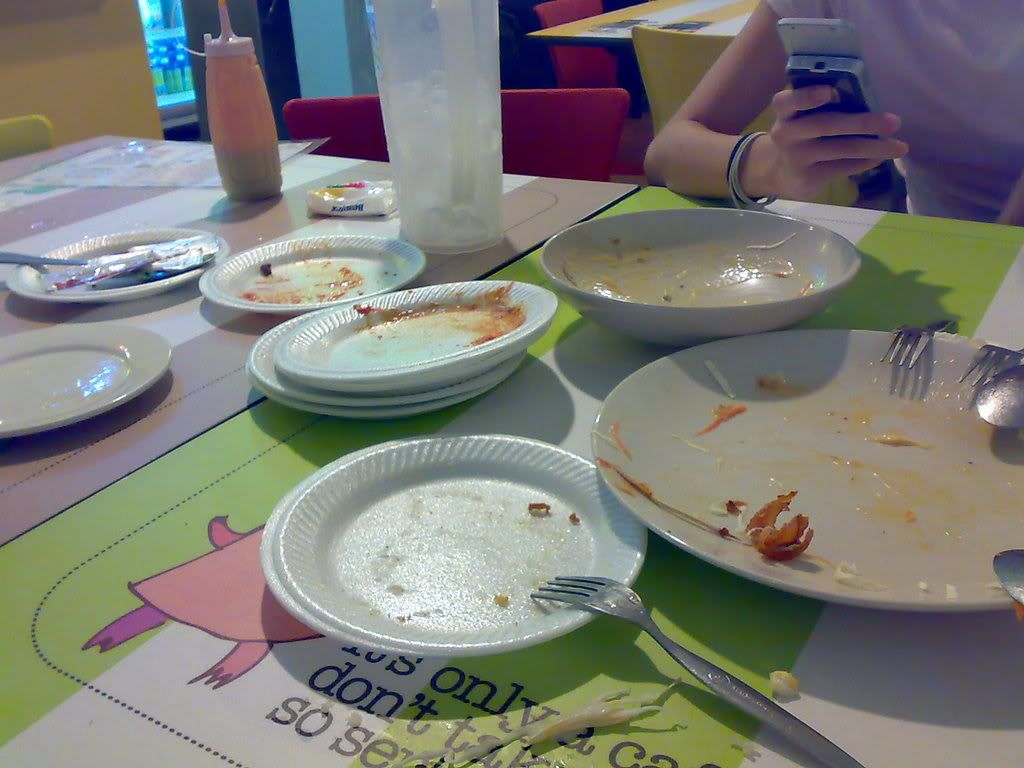 haha, we finished our first serving of food.. waiting for other food to arrive...
I find the food not bad ( although personally I find the pasta and fried rice abit bland) the rest such as nuggets, calamari, onion rings, egg mayo sandwiches are pretty normal but the food were served hot as they only cook when you order, not those where you walk to the tray to take type... however, i dont know why they put on styrofoam plate.. ( easier for them to throw away, because they dont want to wash the plates??haha)
I think this buffet sort of a past time thing.. can go there to eat and chat at the same time, at a low price.. I dont know where else can eat a small buffet for $5 ... even eat Mcdonalds also not so cheap... but if you go weekend, it will be $8 though.
Haha, but please dont expect out of world food, but think of hot finger food in a cozy cafe... but really can fill my stomach because got fried rice, pasta and sandwiches/bread, and different types of potato... and end with ice-cream - which you can eat all 3 flavours.. strawberry/chocolate/vanilla.('',)
Personally I find that the set lunch will be nicer and like more worth than the $5 buffet. For $8.90, will include a big plate of fish & chips, soup or salad, cold/hot drink and a dessert. If you have the time then can try the lunch set meal or if you like finger food like nuggets/chicken wings person, then the $5 buffet will suit you.
and this buffet also do not include the bread & pudding dessert which is very nice.