A few months ago, I won a hamper from L'oreal via a cozycot contest.. and 3 boxes of DIY hair color were included. Ok, I seldom color my hair ( even when I do, I will do it at Chapter 2) neither do I DIY ( I scared the color will turn out terribly though!!)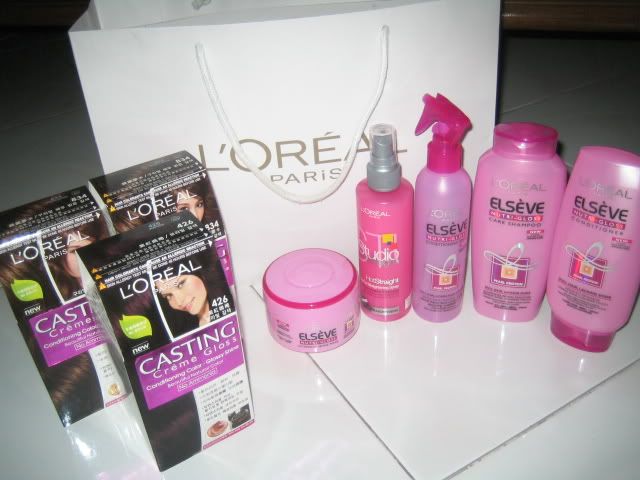 But there are 2 things special about the L'oreal Casting Creme Gloss Conditioning Color packs ...
1
... It has no ammonia
2
... the color is temporary, as in the color will fade after about 48 washes.. ( ya, I read about it quite some time back)
It was reason 2 that made me try this DIY hair color myself.. because if its very terrible, the color will just fade after 48 washes, about 1.5 months.. so the damage wont be permanent!
This is the color I chose.. #834 ( I was given 2 boxes of #834 and 1 box of #426)
The contents inside the box...
Ok, the original color of my hair:
* The color of my hair is more of black, with some brown from the last coloring.
Ok, after using it L'oreal Casting Creme Gloss Conditioning Color (No Ammonia) #834 earlier... the after effect:
Ok, its not much of a difference ....just abit of dark brown tone and my original brown parts blend in with the new dark brown shade....
I did follow the instructions closely.. but instead of leaving for 30mins, I left it for around 25mins... think the time that I left the color on, was too short so the color has not developed...
Product: L'oreal Casting Creme Gloss Conditioning Color (No Ammonia) #834
Price: Not Sure, I got it in a L'oreal hair hamper sponsored by L'oreal.( but should be easily available at Watsons, Guardian etc..
Smell: there is really no ammonia smell.. you know when we do hair color, there is always this strong ammonia smell present, but not in this product though.. think it should be one of the few DIY hair dye in the market that contains no AMMONIA!
Ease of Use: From the picture, you can see there is no comb-like thing that was included in the box.. its basically a squeeze from the tube applicator, but I did use an old comb to brush the dye so that the dye can be distributed more evenly. I find the application part a bit tedious on my part, but washing my hair and using the conditioner is an ease. The conditioner smell really NICE, so fruitty. ('',) Ok, actually I should have asked my brother to help me to apply the dye, think it will be easier as I cannot see the back of my hair.
Time: It stated 30 minutes for hair which had not done any coloring in the past 3 months..( and 20 minutes for those who had colored their hair recently) but I left for 25minutes as I got quite fine hair.
After Effect: Not really drastically difference (haha, its suppose to be a beautiful natural color as mentioned on the box) maybe a shade lighter than my original color, and making my original brown parts blend in with the new dark brown shade.... maybe if I had left it for a longer period of time, the color will be more obvious?? I love the smell of my hair now. Its also not drying for my hair.
Conclusion: I think this product is quite good for beginners or for those who do not really want a super drastic change in their hair color.. Good for those who cannot stand the smell of the strong ammonia.. because there is no ammonia in this product. And the best part is the color will fade after 48 washes so no worry of 2 tone color when hair grows.