These few weeks, there is this purple eye-catching product popping out whenever I log into Cozycot.. I am sure any cotter who log in regularly to Cozycot would not miss it.. It is Cosme Decorte Moisture Liposome 30 day Challenge .. and it is stated that 50 cotters who registered would be selected to try out this product in a 30 day challenge.. and so I quickly signed up for it and hoping that I would be selected...
On 2nd June 2009, I received an email that read:
" Congratulations! You have been selected for the Cosme Decorte Moisture Liposome 30-Days Challenge!"
and Yes.. I was so lucky to be one of the 50 cotters to be selected .. so happy and excited about it!
There were 2 workshops on separate days and I went for the 2nd session..
It was a very well organised workshop.. everyone of us were seated according to our skin type.. The special guest speaker - Nakamura-san came over to each of us and told us what was our skin type..And she said that I have got normal skin, when I told her that some areas of my skin were dry, she said that it was normal for normal skin to experience dryness/oiliness at certain parts.
In the cozy Cozycot office, this was the first slide of the powerpoint presentation...
(Click on image to enlarge)
Addicted to Purple
.. Addicted to Cosme Decorte Moisture Liposome..
To be honest, I have not heard about Cosme Decorte prior to seeing the advertisement on Cozycot. I am using kose white mask for the past few years and Cosme Decorte is actually the premium range, under the same umbrella as Kose)
As we aged, our skin ability to retain moisture goes down. In fact, Nakamura-san advised that we should start proper skincare/anti-aging as young as 18 years old.. She mentioned that it does not necessary mean we have to use alot of products at one time, but rather chose basic skincare products that are effective.
At 25 years old, our secretion function slows down ,resulting in open pores and dehydration.
At 30 years old, our blood circulation and metabolism slows down,resulting in dullness and darkspots.
At 35 years old ( which is the most crucial stage), there will be a change in our dermis environment( this is sometimes called the true skin, it lies below the epidermis), resulting in skin to sag as the bulk of the dermal tissue is formed from collagen tissue.
And we were introduced to #1 best selling skincare product in Isetan Japan, in Shinjuku..
Cosme Decorte Moisture Liposome contains skin-loving ingredients such as Balsam and Beech extracts to boost our skin's defence system and anti -ageing capability. It promises to completely overhaul rough and dehydrated skin.
For dehydrated skins, it just takes 3 days to see results.
For oily skins, it will take longer about 5-6 days to feel that the skins is not that oily ..
A pretty amazing product that work on both oily and dry skin types! and also will help makeup to stay longer. Plus it provides 24-hours non-stop hydration... Nakamura-san was so confident about this product and promise us that it will definitely work and that she want to share this amazing product to us.. Ok, if you look at her complexion, you will be convinced too.. because she do not look at her age.. She is 48 years old but her skin and neck is still smooth, firm and supple!
More information:
(Click on image to enlarge)
Plus it is Oil-free and Alcohol-free. Suitable for all skin types, even on sensitive skins.
Nakamura-san said that Moisture liposome works best on cleansed skin... and she mentioned that proper cleansing is very important, because a cleansed skin will allow penetration of products. It is recommended that we gently cleansed our skin for 2 minutes! and applied Moisture Liposome within 5 minutes after cleansing our skin so that dirt and dust wont go into our pores. And 3 full pumps are all we needed for our whole face.. spread and massage onto our skin.. let the product absorbed into our skin, before continuing our usual skincare regime, such as toner, serum and moisturiser.. And this product can also be used on our eye areas, like on eye lids and under eye areas..
At the end of the workshop, we were each given a bottle of Cosme Decorte Moisture Liposome to bring home and begin our Cosme Decorte Moisture Liposome 30 Day Challenge.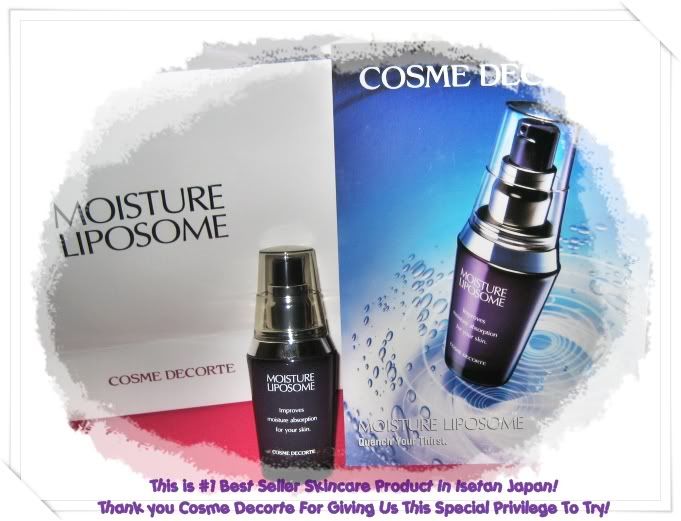 (Click on image to enlarge)
Thank you Cosme Decorte and Cozycot for selecting me to try out on this amazing product.. Special thanks to Nakamura-san for sharing with us valuable skincare tips and providing us a better understanding on Cosme Decorte Moisture Liposome. She was so friendly, knowledgeable and polite.
Ok, I had tried this product for 3 times already ( since friday night) .. and I am happy and glad to say that my skin (sensitive and combination skin type) did not develop any breakouts from using this product! ... This product is really light weight and easily absorbed into my skin, without any greasy feel... It is really oil free! Looking forward to better skin soon!