Today I went to our Changi airport with my mum because yesterday I saw at my dear's place a brochure of all the T3 special promotions...but what attract me was the GST free at Watsons + $5 off with every $30 purchase...
This is the brochure and discount coupon and a stamp & win card to get a free premium: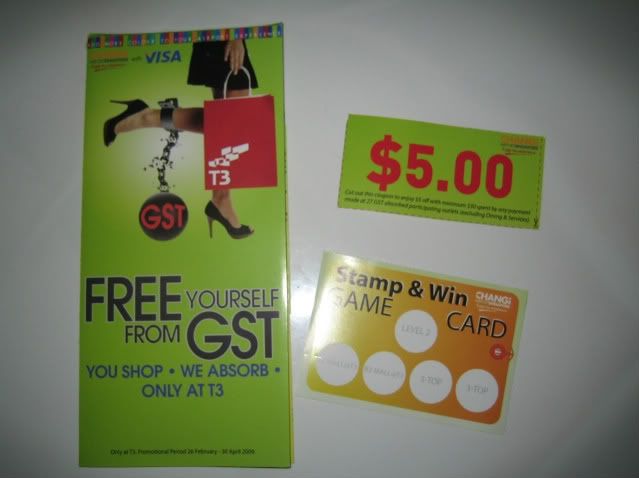 Here are my purchases ( helped my dear buy contact lens solutions and my aunt her Bawang shampoo)

haha.. I know I bought 7 tubes of toothpaste!! anyway, if I had bought all the above at downtown Watsons outlet, these would have cost me $ 76.95.
But guess how much savings I had at T3 Watsons outlets:
- 7% GST
- $10 off because every $30 spent entitle customers $5 off.
So in the end, I only paid $61.92 instead of $76.95 ( so saving of $15.03)
and I was given 2 free complimentary 1hr carpark coupon
which will expiry until end of the promotion period ( 30th April 2009)!!
and I got 2 chances to win sure-win prizes at Level 3 redemption booth. ( Actually I could have used my POSB everday card to get a further 6% rebate of $61.92..but because I wanted to test my luck at the redemption booth, so I use my Visa to pay the bill. because spend $30 by Visa or $60 by other means in a single receipt at any of the 27 participating outlets entitles customers to a chance...
Oh yes, I also got collected chops from 5 different outlets ( from Watsons, Cnady Empire and 3 other outlets) so that I can shun pian collect the free T3 exclusive premiums and a chance to win $500 Changi vouchers in the weekday draws..
Ok, with my Watsons receipts and fully stamped card.. we went to the T3 public area redemption booth... ( its playing those hammering arcarde game.. but the lower range you can hit, the better prizes you will get) I think 250-290/300 points is the highest rewards which is $25 voucher, got other denominations.. and the lousiest prize is disney collectibles which is a sure win in case you did not get any vouchers...
And my mum got 623 points ( too many points already) and I got 123 ( too little points) and we both got the lousiest prizes ... and when I acknowledged on the list, I realised that almost all the winners got the lousiest prizes, so its indeed difficult to hit not too hard or not too soft...
Here are my prizes:
(inside on the notepad)
One prize consists of a disney cushion + a notepad.. so me and my mum got 2 sets as we spent $30 x 2 using Visa. if we had used other mode of payment such as mastercard/nets/cash, we would only get 1 chance in this hammering game. haha.. instead of getting 6% rebates using my POSB everyday card, I got these... my 6% rebates is around $3.70 so the above cost $3.70 I doubt so.. haha, unless I win $25 voucher..then more worth it!!
And we also got 4 free lock pads for completing the stamp & win card. ( Each customer is entitle to redeem 2 lock pads each though) .. All the completed cards we dropped into the lucky draw boxes and every week there will be winners to win $500 Changi Vouchers.
Also got some snacks at Candy Empire ( also another GST free shop)
and before heading home, went to drink teh and eat toast at Wang Cafe ....
** Dont worry the brochures are easily available near lifts and walkway inside T3 .. ( the $5 discount coupon and stamp & win card are found on the brochure too.
Here is a list of participating outlets:
More details on the FREE YOURSELF FROM GST promotion:


Click on the images to enlarge.
Do visit Changi airport website for better views of the promotions. http://www.changiairport.com/changi/en/airport_guide/exp_changi/events_n_promotions/GST_shopping_promotions.html

Check out the terms & conditions here: http://www.changiairport.com/changiweb/export/sites/changi/en/docs_pdf/TandC_SP_GST09.pdf