last night I did some swatches on my wrist to test how dark Dr.G actually is.. because I applied Dr.G on my whole face and realise that its abit dark on me..same as revlon Colorstay Sand Beige which I also find it abit dark for my skin... however, when Revlon LF is applied on my whole face and top with loose powder, its still not very dark..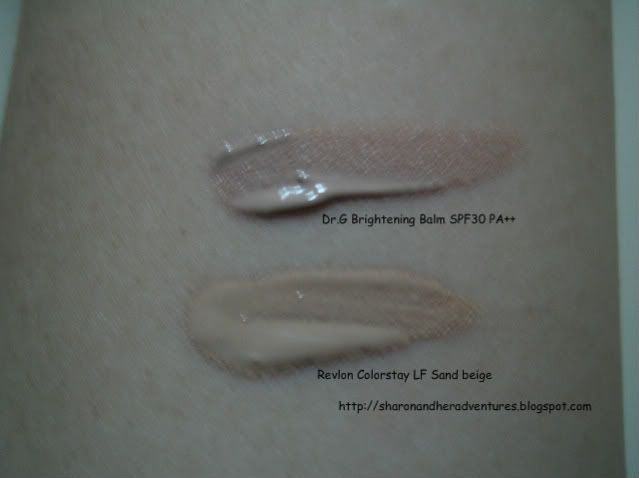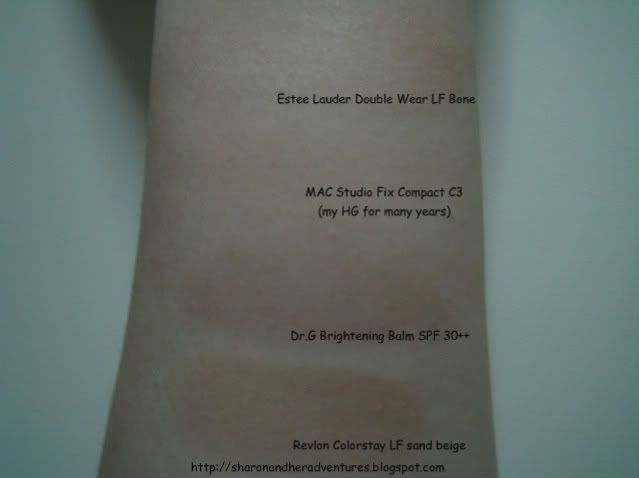 ( Click on images to enlarge)
So to prove that my eyes are on playing tricks on me, I decided to add to more swatches ..
- MAC Studio fix Compact in C3 - I had been using this shade for almost 8-10 years, that i had lost count how many tubs I had used up... its a almost a perfect shade for my skin I feel.. ( just that now that I grow older, maybe i find the powder starting to be quite drying on my skin)
- Estee lauder double wear liquid foundation in Bone.. when the SA picked this shade for me, she really tested the color by piling 2 big patches of different colors on my cheeks, and she said that Bone is more suitable for me.. however, when i applied on my whole face and top with loose powder, i looked abit on the white side...
Finding the perfect color/ formula for our skin is so so difficult!! Either I ended up being a white ghost or too dark face... sad!!!