Swatches: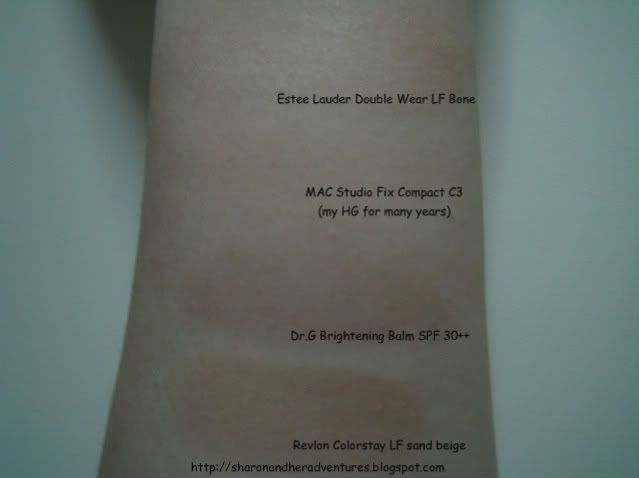 Being a fan and user of MAC Studio Fix 2 way cake, I never thought I would like liquid foundation, and never would I expect it to be a drugstore brand - Revlon.
But I really have to thank a very kind angel, Jane, for giving me a small sample of this foundation to try ... and after trying I was pretty impressed by its coverage and lasting power that I went out to buy a full size bottle. Despite selling away 2 portions of this foundation sample to 2 cotters, Xnana and Christine, it still took me quite a long time to finish up my 1st bottle.. (ok, maybe because of the tool that I used to apply this foundation help too, MAC 187 or E.L.F powder brush)
Sand Beige should be the lightest shade sold in Singapore, btut think there is another lighter shade called buff which is only available in US. Although Sand Beige is a bit dark for my MAC C3 skin tone, a wee bit of the liquid foundation stippled onto my face, plus loose powder to set, my face and neck colors still look ok, not too dark .. This foundation is named Colorstay for a reason, it really stay.. my foundation actually can last the whole day.
From US online website, I found out that Revlon Colorstay foundation is also available for normal/dry skin (red cap instead of black cap) think that would not be drying for my skin type since this is more for oily and combination skin.
What I like about this foundation:
able to cover my flaws (acne scars) well,
pretty lasting,
very small amount of product goes a long way...
color is quite compatible with my skin tone after blending out, set with translucent loose powder. (Although it really is darker than my skin tone)
What I like do not like about this foundation:
a bit too drying for my skin,
Very messy when using the product, I always have to use a cotton bud to dip some foundation out from the bottle before using (The bottle should come with a pump)
Cost of the product: SG$27.90 ( available at Watsons, Guardian, and leading departmental stores like John Little, OG, BHG, Robinsons etc, and hyper mart like Carrefour)

I know it will take me a long long time to use this 2nd bottle, but if I were to buy the 3rd bottle, I will definitely try the formula for normal/dry skin.