First of all, I am glad that this sharing experience of why I love Cozycot.com does not limit me to any number of words, or else I will definitely have a tough time expressing all my lovely and memorable experiences I had in the past 1.5 years since I joined Cozycot.com.
I have to admit I am really addicted to Cozycot.com that I can spend hours here in Cozycot.com almost every single day since day 1 that I joined.From head to toe, I can easily find discussion threads on the topics I am interested. Of course, it also covers topics beyond beauty and fashion, like food, travel, entertainment, relationships, health, sports, weddings and many other threads where like-minded cotters come in together to share on their experiences and giving each other valuable advices. In fact, I always tell my friends whatever topics or information that they can think of or want to find out more, they can always find the answers in Cozycot.com.
Throughout this 1.5 years, I got to know many like-minded friends through events or even in the threads. It actually feel good to be able to meet the lovely faces behind those nicknames..Here in Cozycot.com, we know each other by our unique nicknames ( For myself, I am happy_paradise) so its very natural for us to address each other nicknames and not our actual names when we actually met, maybe we are just so used in addressing the person in her nickname that we tend to call each other our nicknames when we meet at events...
Do you know 6 months after I joined Cozycot.com, I found out that one of the cotters was actually my primary school mate, someone whom I had came across in my younger days for 6 years, and her classroom was just next room to mine.. And I only realised that on my 3rd meet up with her when I told her she look very familiar to me.. So please do not be surprised to find a familiar face when you attend any event.. The world is really small, the person behind the nickname may be your lost found friend!
Actually it is really true when I said that you really can know alot of information from sales to product reviews here, you dont even have to travel to that place in person, to know what is going on, or whether they are stocks for that particular sales item that you have been eyeing on.. because we have very helpful cotters islandwise to share their findings... like what gifts with purchase for magazine at a particular bookshop, where your favourite food stall has moved to, how much that shop or this shop is selling for a particular item, how to go from this place to that place, what items are available at the sale venue, you really can find all answers here.. ( In fact, I got to know that one of my favourite beef noodles at the old Scotts place, has relocated to Ang Mo Kio Hub food court a few months back)
That is certainly not all....
Cozycot.com even give us many chances to participate in focus groups, new product launches, and special events where we learnt valuable tips from the experts. There is a rave board (under REVIEWS) for us to review the products we have tried, so that cotters who are interested can find out more about the product before making a purchase. And whenever we rave on the cosmetics or skincare products at the rave board, we get to earn points which we can redeem a range of fabulous gifts from our generous sponsors.
Very often, our kind sponsors also offer us complimentary new product samples for us to try, like perfume vials, full size mascaras, skincare and haircare products etc...
And not to forget, there are always contests every now and then for us to win great prizes from our generous sponsors.. Here are some of the things that I have won through the contests organised by Cozycot.com and our generous sponsors, over these 1.5 years: ( you got to believe its all true.. because I am one of the lucky winners to these fabulous prizes)
L'Oreal Paris Dermo-Expertise Hamper.
Model Co Lash Wand heated eyelash curler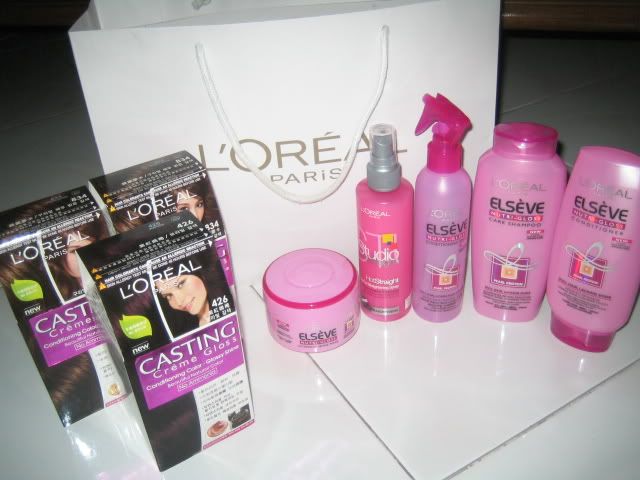 L'Oreal Paris Haircare Hamper
Latest Update 24th June 2009: A Zeno Classic Acne Clearing Device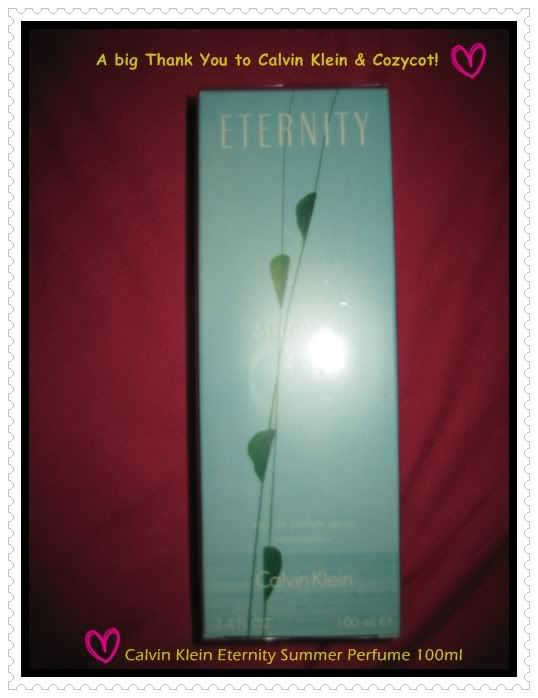 Latest Update 24th June 2009: A 100ml bottle of Calvin Eternity Summer Perfume ( this is one of the 20 prizes awarded to cotters who won in this blogging contest on Why I Love Cozycot.com, which is this blog entry..thank you Cozycot for noticing my entry)
As mentioned earlier, from times to times, Cozycot team will organise/events/workshops/contests/product sampling with different companies/ big brands to provide us with useful tips/product knowledge and be the first few to experience new product launches or even sneak preview/sampling of new products..
So far I have attended only the following events and almost all times, the sponsors will also prepare lovely doorgifts specially for cotters who attended the events.. See see....
Doorgift from Henry Tianus Workshop
Doorgift from Ipsa Makeup Workshop
New product sampling: Clinique Superdefense SPF25/PA+++
Goodie Bag Given At the Holy Grail Party for purchase above $100
Free hourly gifts given at the Holy Grail Party
Celebrate Women Day With HP event ( Guest speaker: Ms Irene Ang)
Lovely goodie bag for Celebrate Women Day With HP event.
** More details on Celebrate Women Day With HP event in
this entry
.
Goodie bag from Dior Fever Addict New Product Launch
Bio-essence Tanaka White new product samples
Bio-Essence InchLoss Body Cream & Cellulite Treatment Trial kit
Biotherm's White D-Tox [CELLULAR] Workshop's doorgift from Biotherm
**For more details on Biotherm's White D-Tox[CELLULAR] Workshop, click on
this entry
.
Euphoria Perfume vial sample from Calvin Klein
Retail size MagniF'Eyes Eye Opening Mascara from Rimmel London!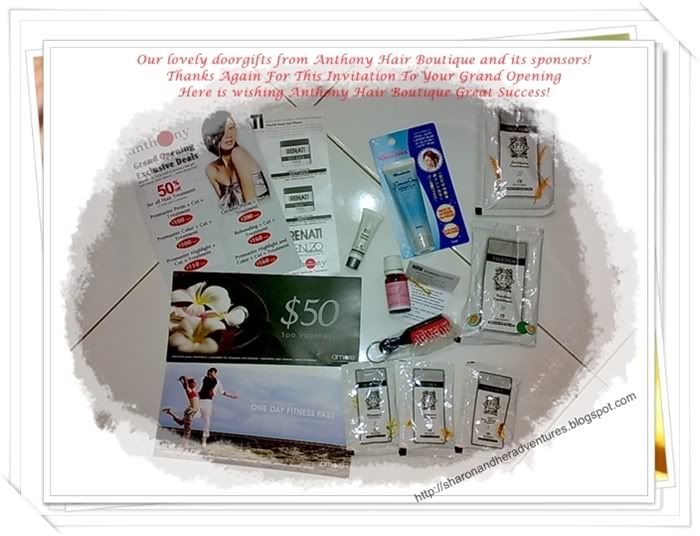 Door gift for attending Anthony Hair Boutique Grand Opening at Tampines 1 including live hair makeovers by the director - Mr Anthony Tang.
** More details on Anthony Hair Boutique Grand Opening at Tampines 1, click on
this entry
.
Cosme Decorte Moisture Liposome 30 day Challenge Workshop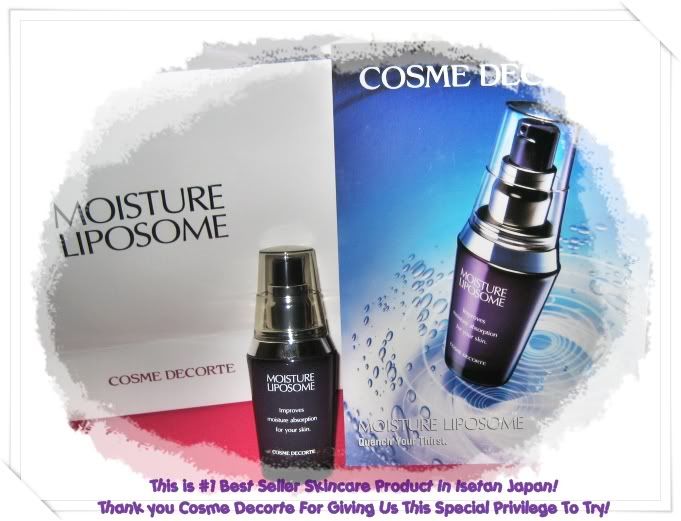 I got to bring home a full size Cosme Decorte Moisture Liposome to start my 30 day challenge to smooth, moisturised and supple skin!
More details on Cosme Decorte Moisture Liposome 30 day Challenge Workshop, click on
this entry
.
And remember just now I mentioned about getting points when I rave the products I had used, a few months back, I used 3000 points to exchange for this Laneige concealer kit, comprising a concealer and a powder to set the concealer.
Now, there are so many more attractive products from our generous sponsors waiting for us to go redeem.. and these brands include Dior, Kiehl's, Shiseido, and many others more big brands, in fact too many of them for me to list them all out here.... Click on the Tab ( REWARDS) on the top bar to see the whole range of items to be redeemed.
And if you are still new to Cozycot, we can update your details and instantly be rewarded with up to 1000points. Here is
a guide
which I have created on how to add your wishlist under editing your profile.. and be rewarded with 50 points in few a just minutes.. Its that simple.
I would also like to take this opportunity to thank all cotters who have given me moral support, your care and concern when I posted about my breakup with my boyfriend of 9 years under Cozycot Cafe- Daily Rants thread.. Thank you gals for dividing my sadness, unhappiness and hearing me rant my problems during this difficult period of mine. I will be more than happy to share your joys and happiness under the Daily Raves thread.
Before I end this long long entry, I want to say a big big THANK YOU to the whole Cozycot team and our generous sponsors in organising so many special events/workshops/product launches and giving us so many special treats so often, and making Cozycot.com such a cozy place for all.

Cozycot.com- where beautiful minds meet